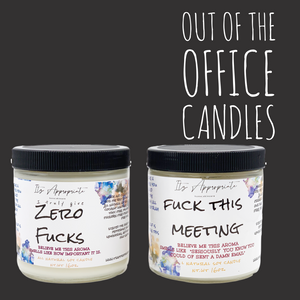 Enjoy our "OUT OF THE OFFICE"CANDLES. They are THE CANDLES that will burn and just allow you to just enjoy what it is meant for. Need that therapeutic time to self.

Enjoy this two wick all 9oz. of good vibe. 
Here is our very own essential blended infused oils with our natural luxury coconut and soy wax blend.
SELECT YOUR AMBIENCE OF CHOICES BELOW.
Fuck this Meeting:
we all know when the unnecessary meetings have been scheduled just to hear nothing they couldn't of have written in an email. I mean a waste of our time. WE CANT RECYCLE WASTED TIME. Uuugghhhh
Zero Fucks:
When You truly can care less, you don't have any more energy to waste on non-sense. Don't ask me for nada cause my interest is going be as close as you paying me my salary. Get those racks up and then we can speak to it. IJS.
Product Details-
-All Natural Soy and Coconut blended wax
- Re-usable, Clear Glass jars with threaded black lids
- Eco Friendly, cleaning burning all cotton Wicks
- 90 + hour burn time
- Made in Ga