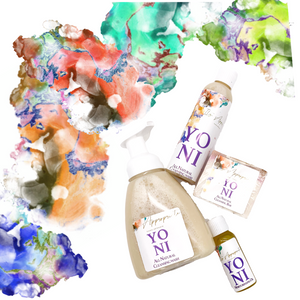 The All Natural Yoni Wash it is a natural, organic, gentle vaginal cleanser.  The natural active ingredients are aloe vera and other plant based compounds aid in promoting the maintenace of vaginal ph balance and healthy flora. 
 Benefits:
The All Natural Yoni Wash cleanses, soothe, and gently removes external bacteria
The All Natural Yoni Wash aid to prevent overgrowth of candida and bacteria that cause yeast infections and bacterial vaginosis
The All Natural Yoni Wash aides in eliminating odor by providing healthy acidity to your natural vaginal microflora
The All Natural Yoni Wash Soothe, protect, and moisturize intimate skin
The All Natural Yoni Wash  is Hypoallergenic & pH balanced
The All Natural Yoni Wash helps to regenerate and protect the most intimate parts 
The All Natural Yoni Wash is made and aids to the healing and antibacterial effects we found undeserving.
The All Natural Yoni Wash never the less, is made with No chlorine, alcohol, parabens, silicone, sulfate or SLS, no phthalate, non-GMO, no dye, no artificial fragrances, no DEA, no Lye, & Cruelty freeIt contains antibacterial, anti-fungal, & anti-viral compounds such as Colloidal Silver, which for thousands of years has been used as a healing agent by civilizations throughout the world, as disease-causing pathogens can not survive in it's presence. 
Purchase our large 8oz bottle today! A little goes a long way! 
Directions:  Apply a small amount of All Natural Yoni Wash externally on top of the vagina, under labia & throughout vulva for daily cleansing during bath or shower. 
 Botanicals: Aqua, Castille Soap, Organic Coconut oil, Aloe vera, Apple cider vinegar, Essential Peppermint and Citrus Blend, Witch Hazel, and love from a woman who cares.